Tunes on Tuesdays: Bronx Arts Ensemble Presents: Steven Oquendo Latin Jazz Orchestra
June 28 @ 4:00 pm

-

5:00 pm
Tunes on Tuesdays: Bronx Arts Ensemble Presents: Steven Oquendo Latin Jazz Orchestra
Tuesday, June 28 @ 4 PM
Co-op City Field Stage
Enjoy an afternoon of Latin Jazz music performed by The Steven Oquendo Latin Jazz Orchestra.
This event will be held across the Baseball field. See the map below, where the star emoji (⭐)  is located: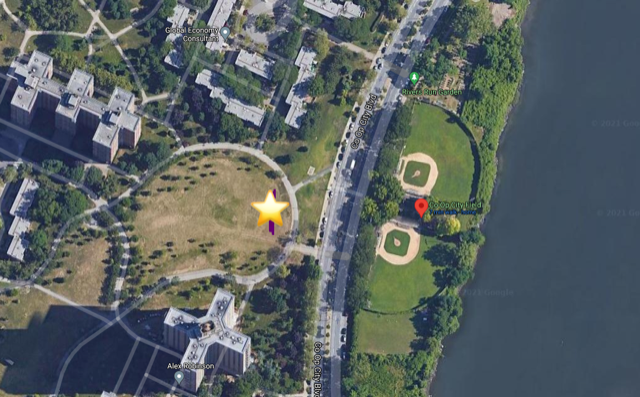 Steven Oquendo Latin Jazz Orchestra (SOLJO) Created in 2009 and lead by distinguished trumpeter and music educator, Steven Oquendo, SOLJO has proven itself a force to be reckoned with. The big band is made up of 19 superbly talented guardians of Latin music. SOLJO's repertoire is comprised of Afro Cuban palladium era salsa and mambo classics that pay homage to the genre's originators, while simultaneously injecting a fresh interpretation that has intrigued and
captured new fans of all ages and backgrounds. SOLJO's sophisticated use of free improvisation, dissonant harmonies, fusion rhythms, and creative arrangements has helped to dispel stereotypes surrounding Latin music and Latin Jazz, and ensured that the essence of the music continues to thrive.
SOLJO's Members hail from all five boroughs of New York City and beyond, and have individually performed with a wide array of international artists, including Ray Santos, Tito Puente, Dizzy Gillespie, Celia Cruz, Ruben Blades, Cheo Feliciano, Machito, Tito Rodriguez, Wynton Marsalis, Hector Lavoe, Benny Golson, Eddie Palmieri, Jon Faddis, Marc Anthony, Dave Valentín, Arturo Sandoval, Destiny's Child, Candido Camero, Bobby Sanabria, Juan Luis Guerra, Giovanni Hidalgo, Ray Barretto and a host of others.
Steven Oquendo (musician, band leader and educator) was born in 1979 in New York City. Oquendo's love affair with music began at the tender age of 10, when he first
learned to play the trumpet. He later attended one of the nation's most prestigious performing arts institutions –Fiorello H. LaGuardia High School– and was a member of the award winning LaGuardia Concert Jazz Ensemble. During his attendance, the ensemble won first place in Jazz at Lincoln Center's 1996 Essentially Ellington High School Jazz Band Competition and Festival. Oquendo was individually awarded the Outstanding Soloist Award during the 1998 competition by Wynton Marsalis. That same year he was also a member of the prestigious Grammy All-American High School Jazz Orchestra. During this time he was mentored by Jon Faddis and Wynton Marsalis – two of the most highly regarded jazz trumpeters.
During and after high school, Oquendo – who is of Puerto Rican and Dominican descent – proved himself to be a powerful force in Latin music scene. Oquendo has toured all parts of the globe, including Africa, Europe, South America and the Caribbean. He has recorded and performed with a wide and diverse range of artists, which include collaborations with, Destiny's Child, Big Pun, Swiss Beatz, Angie Martinez, Juan Luis Guerra, and Mana. He has also performed with Celia Cruz, Ruben Blades, Cheo Feliciano, Wynton Marsalis, Jon Faddis, Arturo Sandoval, India, George Lamond, Eddie Palmieri, Ray Santos, Milly Quezada, The Tito Rodriguez Orchestra, The Machito Orchestra, and many more.
In 2009 Oquendo formed the Steven Oquendo Latin Jazz Orchestra (SOLJO), a 19-piece big band comprised of well-seasoned professional musicians that, for more than five years, has intrigued and captivated audiences with its sophisticated use of free improvisation, dissonant harmonies, fusion rhythms, and creative arrangements of palladium era Afro Cuban, Latin Jazz, salsa, and mambo classics.
Related Events