BAE Concert Hall | Women's History Month: Kamala Sankaram
March 21, 2021 @ 1:00 pm

-

2:00 pm

Free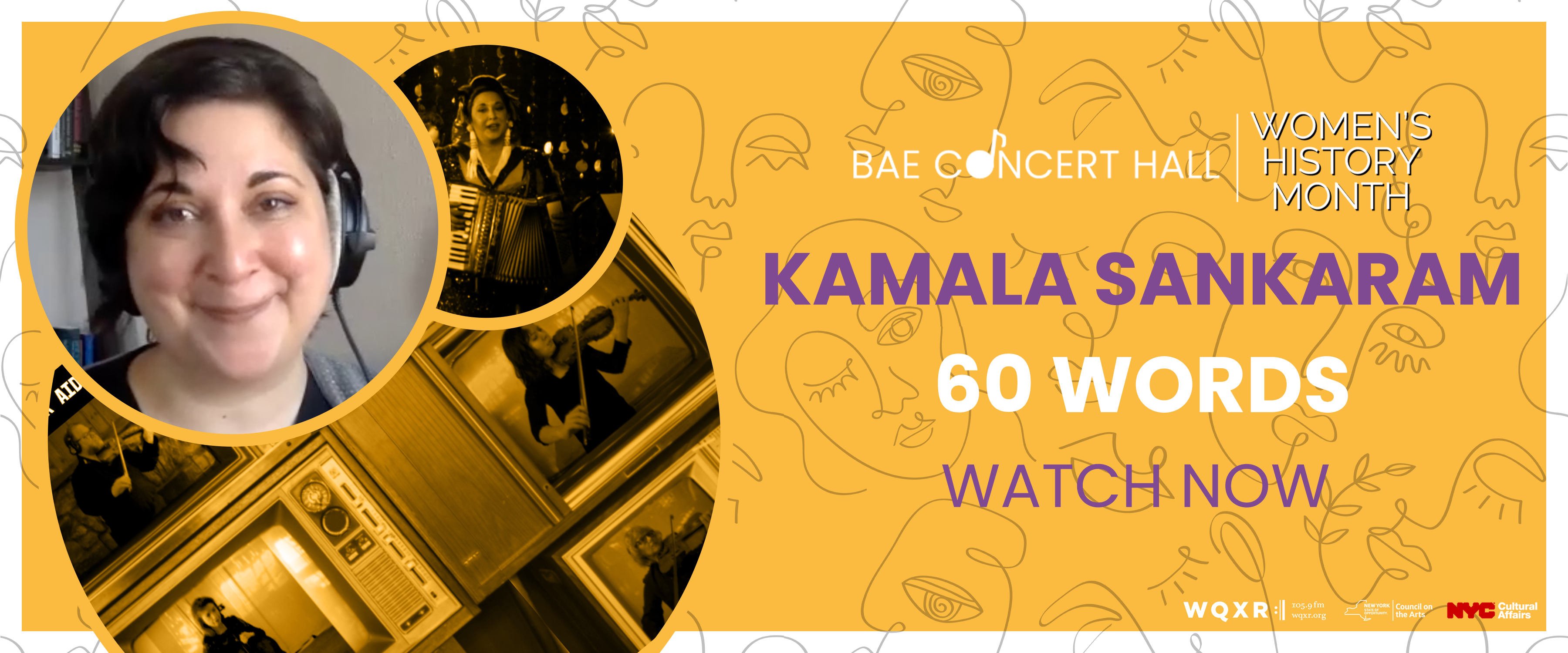 BAE Concert Hall
Celebrating Women's History Month: Kamala Harris
Time: Sunday, March 21st, 1:00pm
Free admission: We welcome any donations at bronxartsensemble.org/donate
Supported by:


WATCH THE RECORDED LIVESTREAM BELOW:
BAE (Bronx Arts Ensemble) is excited to celebrate Women's History Month with an online concert presentation featuring Bronx-Based composer Kamala Sankaram's composition "60 Words" and her unique band that blends the sounds of surf rock/cumbia/spaghetti-Western/Bollywood: "Bombay Rickey."  
"60 Words" is a composition for strings and spoken word, it utilizes the text known as the "Authorization for the Use of Military Force." This text is the legal justification for every covert military operation engaged in by the United States military since 9/11. Kamala was inspired to write this piece after listening to Radiolab's podcast "60 Words" where they examined how just 60 words of legal language have blurred the line between war and peace. The text is as follows:
"That the President is authorized to use all necessary and appropriate force against those nations, organizations, or persons he determines planned, authorized, committed, or aided the terrorist attacks that occurred on September 11, 2001, or harbored such organizations or persons in order to prevent any future acts of international terrorism against the United States by such nations, organizations or persons." 
This presentation will include Bronx Arts Ensemble string players along with BAE Teaching Artists who teach in schools throughout the Bronx. Kamala hopes that the presentation creates tension for viewers and raises questions about what this piece of legislation really means. 
BAE will also broadcast a performance of Kamala Sankaram's band "Bombay Rickey" which features a fun and witty musical performance that touches on issues like racial authenticity and cultural appropriation. 
Premiering on Facebook Live and Youtube Live, this special event will feature an interview with Kamala Sankaram and will be conducted by BAE's Interim Executive Director, Judith Insell. The interview will focus on Sankaram's inspirations for her compositions, her experiences as a woman of color creating the field of classical music and the backstory of her band.
Performers:
Kamala Sankram (String Quartet)
Ashley Hart Adams (BAE Teaching Artist/Drama Educator)
Jorge Avila, violin (BAE Teaching Artist)
Evelyn Petcher, violin (BAE Teaching Artist)
Sally Shumway, viola 
Eliana Mendoza, cello
Bombay Rickey
Kamala Sankram: composition, vocals, accordion
Drew Fleming: guitar, vocals
Jeff Hudgins: alto saxophone, vocals
Gil Smuskowitz: upright bass
Brian Adler: percussion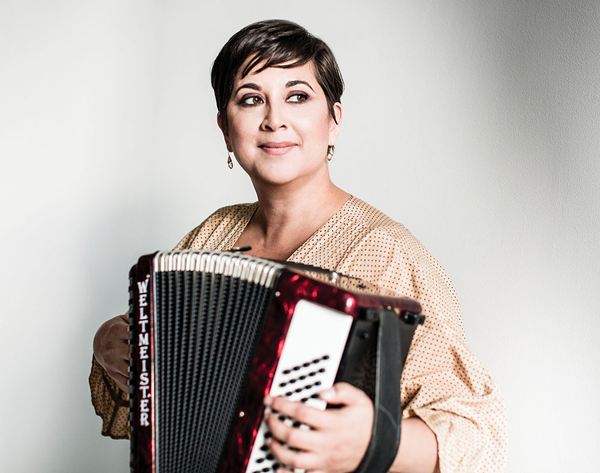 Artist Bio: Kamala Sankaram (Photo provided by Dario Acosta)
Composer/performer Kamala Sankaram moves freely between the worlds of experimental music, creative music, and contemporary opera. Known for her work with emerging technologies, recent premieres include "Only You Will Recognize the Signal", a serial space opera performed live over the internet, the techno-noir "Looking at You", which featured live data mining of the audience and a chorus of 25 singing tablet computers, a short absurdist opera performed live over Zoom and featured on NBC and the BBC3. With Opera on Tap, she created "The Parksville Murders", the world's first virtual reality opera (Samsung VR, Jaunt VR, Kennedy Center Reach Festival, "Best Virtual Reality Video" NY Independent Film Festival, Future of Storytelling, Salem Horror Festival and the Topanga Film Festival.) 
Recent commissions include works for the Glimmerglass Festival, Washington National Opera, Houston Grand Opera, the PROTOTYPE Festival, and Shakespeare Theatre Company, among others. Awards, grants and residencies include: Jonathan Larson Award, NEA ArtWorks, MAP Fund, Opera America, HERE Artist Residency Program, the MacDowell Colony, and the Watermill Center. As a performer, notable appearances include the LA Philharmonic, LA Opera, the PROTOTYPE Festival, and the operas of Anthony Braxton, among others. Kamala is the leader of Bombay Rickey, an operatic Bollywood surf ensemble (recipient of two awards for Best Eclectic Album from the Independent Music Awards). Dr. Sankaram holds a PhD from the New School and is currently a member of the composition faculty at SUNY Purchase. More info at: www.kamalasankaram.com